Hesperia, CA.  pre-1950 – Then and Now
Jack and Margaret Nelson, were a very nice couple, who lived on the corner of Olive and E Street. They had three dogs, two were copper-colored police dogs, named Penny and Copper, and one chow dog, named sugar. My parents became very good friends with them. They had a cow, and we soon started buying our milk from them, until they moved away.
After the Nelsons left the area we started purchasing our melt from the Snell Dairy and Creamery Company that was located in Apple Valley. Dick and Winnie Weening took over the milk routes, serving all the high desert, as far as State Line in 1942. In 1943, the Weening family purchased the dairy and the name of Snell Dairy.  The milk was delivered in glass bottles and the empty bottles were picked up with the next delivery. The milkman would even put the full milk bottles in the refrigerator.  There will never be service like that again.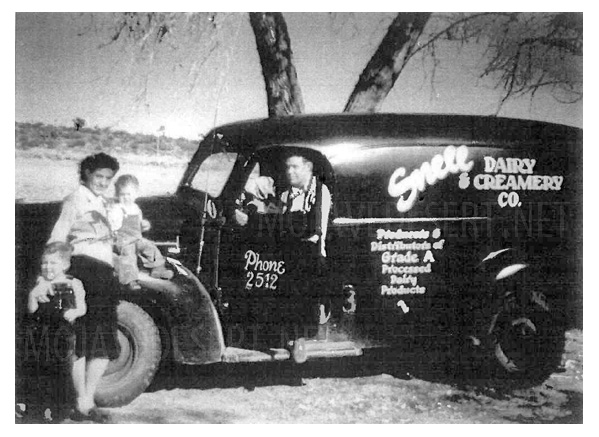 This photo was taken in 1945 or 1946, and was provided by Barbara Weening Davisson, daughter of Dick and Winnie Weening. She notes, that the picture is of the Johnny Weening, driver and Iva Weening Carpenter, with son Jerry (standing), Phil McGurn, being held.
~ Mary Ann Creason Dolan-Rohde
More about …
Hesperia, California