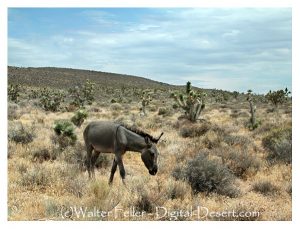 Sandy Walker, Desert Rat, says that in the desert a Ford lives 3 years – a dog 3 times the age of the Ford – 9, a horse 3 times the age of a dog – 27, and a man 3 times the age of the horse – 81, and some say a burro 3 times the age of a man – 243, at least this is 4/5ths true.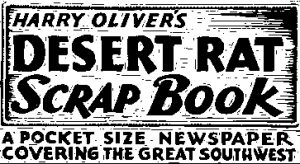 Sandy Walker says you can't find gold with Fords – have to have burros. Says he's been out here in the desert 26 years, 6 years hunting gold and 20 years hunting burros. He didn't find his mine while hunting gold. He found it while hunting his dadburned runaway burros.
Many prospectors will tell you that no one has ever seen a dead burro.
—Printed first in "The Gold Miner," 1930.
Uncommon to locally common in deserts of California. Range extends into eastern Lassen Co., and from extreme southern Mono Co. south to the Mexican border. Most are found in Inyo Co., northeastern San Bernardino Co., and in the vicinity of the Colorado River.