San Bernardino National Forest
http://digital-desert.com/san-bernardino-national-forest/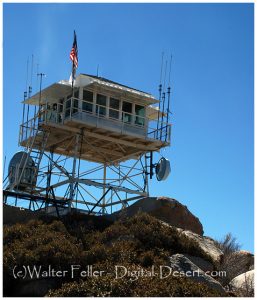 — Keller Peak Historic Fire Lookout Tower —
Keller Peak Lookout, a historic fire lookout tower, was built in 1926 and is the oldest fire tower still standing in the San Bernardino National Forest.
The lookout is little changed from its 1926 appearance, and it represents one of very few fire towers in California dating from before the Great Depression.
Keller Peak is still used during the high fire hazard months, and volunteer lookouts are on-duty between May and November.