We did what shopping money would allow, at Roy Walters' general store. We purchased some beans, flour and canned food items, (canned tuna for my mother and me and canned sardines were for my daddy) gas for the vehicle, and I remember ice for the icebox and we also picked up our mail. The post office was located inside of the store, in our mailing address was PO Box 166, Hesperia, CA. There were no ZIP Codes back in those days.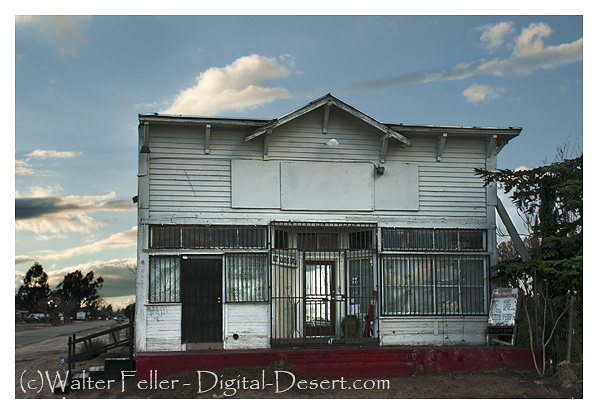 The store was indeed a general store. They carried just about everything a person would need. There was a glass enclosed section that had any candy, which always drew my attention. There was a very large glass jar that sat on the counter that held dill pickles. I remembered these, because I liked both. There were shelves with items all the way from food, medicine, cosmetics two blankets. I remember a large cabinet that had a lot of small drawers, with labels on them. But I do not remember what was in the drawers. I think there were a couple wood barrels sitting on the floor and many items hanging on the walls. If I remember right, I think the butcher shop was located in the back of the store with a cold storage box to keep the meat from spoiling.. I do not remember if the bread was sliced. But I do remember that oleomargarine, (butter substitute) was non-colored and you had to mix a yellow powder packet into it, to make it yellow.
There was a wooden barn that sat next to the store, where the hay and grain was stored. The gas pump was located in front of the store. I only remember one, but there must've been to. I am not sure what brand gas they sold. I do remember that you could buy oil for your vehicle or what equipment you might have at home. I do not remember, but going by the fact that the Walters store carry just about everything, I would guess they also sold batteries for your vehicle and equipment, else well as for your radio and flashlight.
For the longest time, they had the only telephone in this area. And going by history, the railroad station had a telegraph office. The Hesperia depot set almost across the street from the store.
Roy and Laura were both extremely friendly and up on the latest gossip. Roy loved to talk, and so did my daddy, so they would talk for what seemed like hours.
Hesperia, CA.  pre-1950 – Then and Now
~ Mary Ann Creason Dolan-Rohde
More about …
Hesperia, California