From "Loafing Along Death Valley Trails" by William Caruthers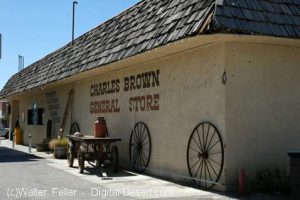 The story of Charles Brown and the Shoshone store begins in Greenwater. In the transient hordes of people that poured into that town, there was one who had not come for quick, easy money. On his own since he was 11 when he had gone to work in  a Georgia mine, he only wanted a job. And he got it. In the excited, loose-talking mob, he was conspicuous because he was silent, calm, and unhurried.
There were no law enforcement officers in Greenwater.  The jail was 150 miles away. Every day was a field day for the toughs in the town. Better citizens decided to do something about it. They petitioned George Naylor, Inyo County Sheriff at Independence to appoint or send a deputy to keep some semblance of order.
Naylor sent over a badge and a note that said, "Pin it on some husky youngster, who is unmarried and unafraid and tell him to shoot first."
The Citizens' Committee met. " I know a fellow who answers that description,"  one of them said. " Steady sort. Built like a panther. Comes from Georgia. Kind slow motion in till he is ready to spring. Name is Brown."
The badge was pinned on Charles Brown.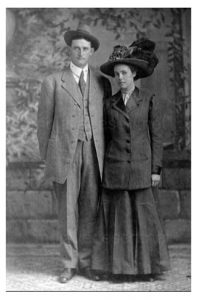 Greenwater was a port of call for Death Valley Slim, a character of the Western deserts, who normally was a happy-go-lucky likable fellow. Periodically Slim would fill himself with desert "likker",  his belt with six guns and terrorized the town.
Shortly after Brown assumed the duties of his office, Slim sent word to the deputy that he was on his way to that place for a little frolic. " Tell him, "  he coached the messenger, "Sheriffs rile me and he better take a vacation."
After notifying the merchants and residents who promptly barricaded themselves indoors, the officer found shelter for himself  in Beatty, Nevada.
So Slim only seen empty streets and barge shutters upon arrival.  Since there was nothing to shoot at, he  headed through Dead Mead Canyon for Greenwater.  their he found the main street crowded to his liking and the saloons jammed. He made for the nearest, ordered a drink and, whipping out his gun, began to pop the bottles on the shelves. At first blast, patrons made a break for the exits. At the second, the doors and windows were smashed and when Slim holstered his gun, the place was a wreck.
Messengers were sent for Brown, who was at his cabin a mile away. Brown's stuck a pistol in his pocket and went down. He found Slim in Waddell's saloon, the town's smartest.  their Slim had refused to let the patrons leave with the bartenders cowed, the patrons cornered, Slim was amusing himself by shooting alternately at chandeliers, the feet of customers, and the plump breasts of the nude lady featured in the painting behind the bar.  following Brown at a safe distance, was half of the population, keyed for the massacre.
Brown walked in and said "Hello Slim". " Fellows tell me you  are hogging all the fun. Better let me have that  gun, hadn't you?" "Like hell," Slim sneered, " I'll let you have it right through the guts."
As he raised his gun for the kill, the panther sprung  and the battle was on.  they fought one over the bar room –  standing up, laying down, rolling over –  first one, then the other on top. Tables toppled, chairs crashed. For half an hour they battled savagely, finally rolling against the bar –  both  mauled and bloody. There, with his strong vice-like  legs  wrapped around Slim's  and in arm of steel gripping net and shoulder, Brown slipped irons over the bad man's wrist. " Get up,"  Brown ordered as he stood aside, breathing hard.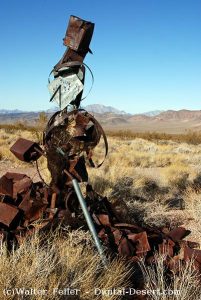 Slim rose, leaned against the bar. There was fight still in him and seeing a bottle in front of him, he had seized it with manacled hands, started to lift it.
" Slim,"  Brown said calmly , " if you lift that bottle, you'll never lift another."
The bad boy instinctively knew the look that foretells death and Slim's fingers fell from the  bottle.
Greenwater had no jail. Brown took him to his own cabin. Leaving the manacles on the prisoner, he took off his shoes and locked  him in a closet.  no man, drunk or sober, he reflected, would tackle barefoot the gravel street littered with thousands of broken liquor bottles.  He went to bed.
Waking later, he discovered that Slim had vanished and with him, Brown's size 12 shoes.  Brown tried Slim's shoes but couldn't get his feet into them. There was nothing to do but follow barefoot.
He left a bloodstained trail, but at 2 AM he found Slim in a blacksmith shop, having the handcuffs removed. Brown retrieved his shoes and on the return trip, Slim went barefoot. After hog tying the prisoner, Brown chained  him to the bed and went to sleep.
Thereafter, the bad boys scratched Greenwater off their calling list.
Slim attained fame with  Pancho Villa down in Mexico,  became a good citizen and later went east.