William Farley Kills Matt Price on the Desert Near Dale City, San Bernardino.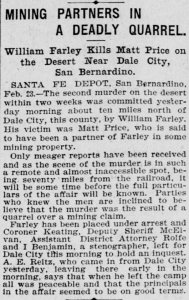 SANTA FE DEPOT, San Bernardino, Feb. 23. — The second murder on the desert within two weeks was committed yesterday morning about ten miles north of Dale City, this county, by William Farley. His victim was Matt Price, who is said to have been a partner of Farley in some mining property.
Only meager reports have been received and as the scene of the murder is in such a remote and almost inaccessible spot, being seventy miles from the railroad, it will be some time before the full particulars of the affair will be known. Parties who knew the men are inclined to believe that the murder was the result of a quarrel over a mining claim.
Farley has been placed under arrest and Coroner Keating, Deputy Sheriff McElvan. Assistant District Attorney Rolfe and I Benjamin, a stenographer, left for Dale City tin's morning to hold an inquest. A. E. Reitz, who came in from Dale City yesterday, leaving there early in the morning, says that when he left the camp all was peaceable and that the principals in the affair seemed to be on good terms.