The Walters family is an important part of Hesperia history.  Starting with George Francis Walters, who moved his family from Illinois to California because his wife, Harriet C Finigan Walters had asthma.
The family first settled in the Riverside area where he went to work for the Santa Fe Railroad. According to Bolton Minister, son of George O Walters Minister, George was offered a transfer to Hesperia to manage the Hesperia Hotel.
The Walters family consisted of George and his wife Harriet, and their children, in birth order, Georgia Henry had to Walters Minister-Henry, Verial  W.  Walters Ormond and Roy Edward Walters.
According to Mr. Minister, both the daughters went to work in the hotel. They were later joined by Laura McClanahan who in 1921 transferred from the Goodsprings Hotel,   in Goodsprings,  Nevada.
Verial  was postmistress, until she moved away when she got married, and then her position was given to her brother Roy.
Roy ended up marrying Laura McClanahan and having a daughter, Geraldine Henrietta Walters.  Geraldine married first, Yeager  and second Schwartz.
According to Mr. Minister,  George Francis Walters built the Walters house in the Walters general store according to Geraldine, her grandmother Harriet was the midwife in the delivery of 32 Hesperia babies.
When George passed away the store was handled over to Roy, who operated it for many years.
I do not know where George and area Walters or Barry. However, I do know that Roy and Laura are buried at the cemetery in Victorville.
With the passing of time, their store had deteriorated and will eventually disappear from Hesperia. As eventually, the Walters name will.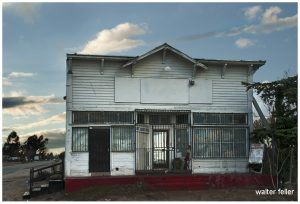 Hesperia California
Pre 1950
Then and Now
by Mary Ann Creason Dolan Rhode