I was standing here one day taking some train shots and some guy told me this was where Say Davis Jr. had the accident where he lost his eye. I asked him if he knew if or not that it had been found? He told me it hadn't and I told him I would look around before I left.
Strange, but not true … (or, All in favor, say "Eye.") Oro Grande, Ca.
This is not where Sammy Davis Jr. was in an auto accident and lost his eye–it would have been found by now if it were!
I know. I went and looked for it.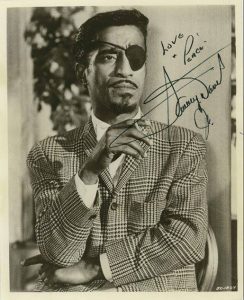 http://digital-desert.com/oro-grande-ca/
So I was curious;
A MYSTERY FROM THE MYSTERIES OF THE MYSTERIOUS MOJAVE
Where did Sammy Davis Jr. Lose His Eyeball?
As he was making a return trip home to Los Angeles from Las Vegas, Davis lost his left eye to the bullet-shaped horn button (a standard feature in 1954 and 1955 Cadillacs) in an automobile accident on November 19, 1954, in San Bernardino, California. The accident occurred at a fork in U.S. Route 66 at Cajon Boulevard and Kendall Drive (34.2072°N 117.3855°W).
BTW; His eyeball is not there either–I looked. If the 'Google' says that's it, that's it!