from; The Captivity of the Oatman Girls — Chap. II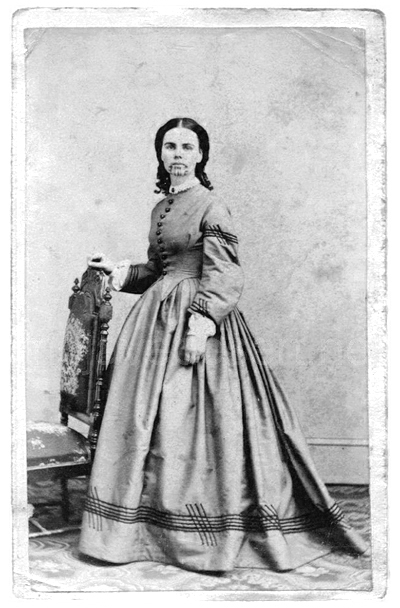 "Though the sun had hid its glittering, dazzling face from us behind a tall peak in the distance, yet its rays lingered upon the summits that stretched away between us and the moon, and daylight was full upon us. Our hasty meal had been served. My father, sad, and seemingly spell-bound with his own struggling emotions, was a little on one side, as if oblivious of all immediately about him, and was about in the act of lifting some of the baggage to the wagon, that had as yet remained unloaded since the ascent of the hill, when, casting my eyes down the hill by the way we had come, I saw several Indians slowly and leisurely approaching us in the road. I was greatly alarmed, and for a moment dared not to speak. At the time, my father's back was turned. I spoke to him, at the same time pointing to the Indians. What I saw in my father's countenance excited in me a great fear, and took a deeper hold upon my feelings of the danger we were in, than the sight of the Indians. They were now approaching near us. The blood rushed to my father's face. For a moment his face would burn and flash as it crimsoned with the tide from within ; then a death-like paleness would spread over his countenance, as if his whole frame was suddenly stiffened with horror. I saw too plainly the effort that it cost him to attempt a concealment of his emotions. He succeeded, however, in controlling the jerking of his muscles and his mental agitations, so as to tell us, in mild and composed accents, ' not to fear; the Indians would not harm us.' He had always been led to believe that the Indians could be so treated as to avoid difficulty with them. He had been among them much in the "Western states, and so often tried his theory of leniency with success that he often censured the whites for their severity toward them ; and was disposed to attribute injury received from them to the unwise and cruel treatment of them by the whites. It had long been his pride and boast that he could manage the Indians so that it would do to trust them. Often had he thrown himself wholly in their power, while traveling and doing business in Iowa, and that, too, in times of excitement and hostility, relying upon his coolness, self-possession, and Olive, with my older sister, was standing upon the opposite side of the wagon ; Mary Ann, a little girl about seven years old, sat upon a stone holding to a rope attached to the horns of the foremost team ; the rest of the children were on the opposite side of the wagon from the Indians. My eyes were turned away from the Indians.
Though each of the family was engaged in repairing the wagon, none were without manifestations of fear. For some time every movement of the Indians was closely watched by us. I well remember, however, that after a few moments my own fears were partially quieted, and from their appearance I judged it was so with the rest.
In a subdued, tone frequent expressions were made concerning the Indians, and their possible intentions ; but we were guarded and cautious, lest they might understand our real dread and be emboldened to violence. Several minutes did they thus remain a few feet from us, occasionally turning an eye upon us, and constantly keeping up a low earnest babbling among themselves. At times they gazed eagerly in various directions, especially down the road by which we had come, as if struggling to discern the approach of some object or person either dreaded or expected by them.
" Suddenly, as a clap of thunder from a clear sky, a deafening yell broke upon us, the Indians jumping into 'the air, and uttering the most frightful shrieks,. and at the same time springing toward us flourishing their war- clubs, which had hitherto been concealed under their wolf-skins. I was struck upon the top and back of my head, came to my knees, when with another blow, I was struck blind and senseless." One of their numbers seized and jerked Olive one side, ere they had dealt the first blow.
"As soon," continues Olive, as they had taken me one side, and while one of the Indians was leading me off, I saw them strike Lorenzo, and almost at the same instant my father also. I was so bewildered, and taken by surprise by the suddenness of their movements, and their deafening yells, that it was some little time before I could realize the horrors of my situation. When I turned around, opened my eyes, and collected my thoughts, I saw my father, my own dear father struggling, bleeding, and moaning in the most pitiful manner! Lorenzo was lying with his face in the dust, the top of his head covered with blood, and his ears and mouth bleeding profusely. I looked around and saw my poor mother, with her youngest child clasped in her arms, and both of them still, as if the work of death had already been completed; a little distance on the opposite side of the wagon, stood little Mary Ann, with her face covered with her hands, sobbing aloud, and a huge-looking Indian standing over her; the rest were motionless, save a younger brother and my father, all upon the ground dead or dying. At this sight a thrill of icy coldness passed over me; I thought I had been struck ; my thoughts began to reel and became irregular and confused; I fainted and sank to the earth, and for a while, I know not how long, I was insensible.
"When I recovered my thoughts I could hardly realize where I was, though I remembered to have considered myself as having also been struck to the earth, and thought I was probably dying. I knew that all, or nearly all of the family had been murdered; thus bewildered, confused, half conscious and half insensible, I remained a short time, I know not how long, when suddenly I seemed awakened to the dreadful realities around me. My little sister was standing by my side, sobbing and crying, saying : 'Mother, O mother ! Olive, mother and father are killed, with all our poor brothers and sisters.' I could no longer look upon the scene. Occasionally a low, piteous moan would come from some one of the family as in a dying state. I distinguished the groans of my poor mother, and sprang wildly toward her, but was held back by the merciless savage holding me in his cruel grasp, and lifting a club over my head, threatening me in the most taunting, barbarous manner. I longed to have him put an end to my life. '0h!, thought I, 'must I know that my poor parents have been killed by these savages and I remain alive !' I asked them to kill me, pleaded with them to take my life, but all my pleas and prayers only excited to laughter and taunts the two wretches to whose charge we had been committed.
" After these cruel brutes had consummated their work of slaughter, which they did in a few moments, they then commenced to plunder our wagon and the persons of the family whom they had killed. They broke open the boxes with stones and clubs, plundering them of such of their contents as they could make serviceable to themselves. They took off the wagon wheels, or a part of them, tore the wagon covering off from its frame, unyoked the teams and detached them from the wagons, and commenced to pack the little food, with many articles of their plunder, as if preparatory to start on a long journey. Coming to a feather bed, they seized it, tore it open, scattering its contents to the winds, manifesting meanwhile much wonder and surprise, as if in doubt what certain articles of furniture, and conveniences for the journey we had with us, could be intended for. Such of these as they selected, with the little food we had with us that they could conveniently pack, they tied up in bundles, and started down the hill by the way they had come, driving us on before them. "We descended the hill, not knowing their intentions concerning us, but under the expectation that they would probably take our lives by slow torture. After we had descended the hill and crossed the river, and traveled about one half of a mile by a dim trail leading through a dark, rough, and narrow defile in the hills, we came to an open place where there had been an Indian camp before and halted. The Indians took off their packs, struck a fire, and began in their own way to make preparations for a meal. They boiled some of the beans just from our wagon, mixed some flour with water, and baked it in the ashes. They offered us some food, but in the most insulting and taunting manner, continually making merry over every indication of grief in us, and with which our hearts were ready to break. We could not eat. After the meal, and about an hour's rest, they began to repack and make preparations to proceed.