On the Trail of a Spanish Pioneer
https://mojavedesert.net/garces/garces-journal-13.html
By Francisco Tomás Hermenegildo Garcés, Elliott Coues
Crossing the Sierra
Mar. 21. Leaving the river I set forth southwest- ward, and having gone two leagues through a Canada and some hills, I arrived at a rancheria of five huts (xacales) on the bank of the river.
I continued on a course to the south and entered into a Canada of much wood, grass, and water; I saw many cottonwoods, alders, oaks, very tall firs, and beautiful junipers (sabinos); and having gone one league I arrived at a rancheria of about 80 souls, which I named (Rancheria) de San Benito. I was received with great joy, and they made me the same obeisance.
Mar. 22. I went three leagues and passed over the sierra by the southsouthwest.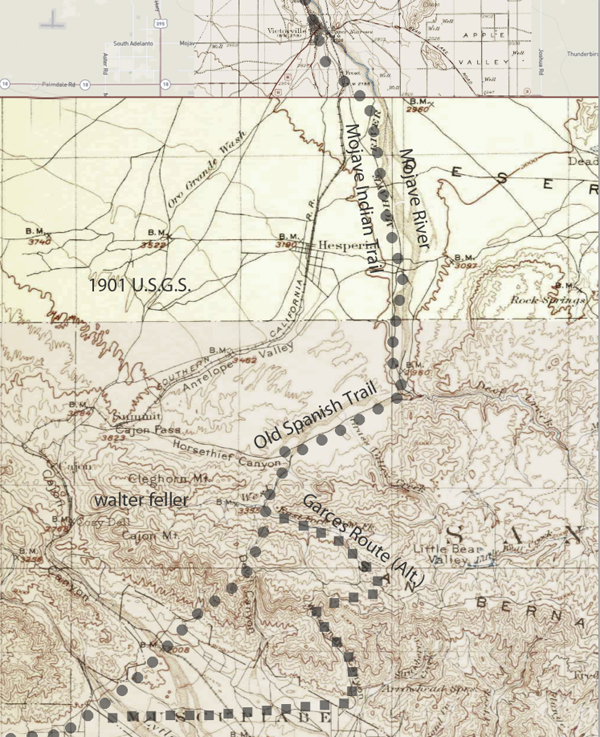 The woods that I said yesterday reach to the summit of this sierra, whence I saw clearly the sea, the Rio de Santa Anna, and the Valle de San Joseph. Its descent is little wooded. At a little distance from its foot I found another rancheria where the Indians received me very joyfully. I continued westsouthwest, and having traveled three leagues along the skirt of the sierra, I halted in the Arroyo de los Alisos.
Mar. 23. I traveled half a league westsouthwest, and one south, at the instance of some Indians who met me and made me go to eat at their rancheria. Thereafter having gone another league westsouthwest I came upon the road of the expedition, which . . . 
Continued:
https://mojavedesert.net/garces/garces-journal-13.html