By Ivan Summers, from the SANTA MONICA EVENING OUTLOOK, Automotive Section, Thursday, January 29, 1925.
"Oh My Gawd"! The explosion of words roused my dog snoozing nearby. What else would you say when, while pawing through an old box of family junk, an eighty eight year old newspaper smacks your eyeballs? Especially if you've had a lifelong addiction to desert minutiae. The absorbing yarn of about 2000 words (with no byline) entails a journey by two Franklin automobiles into and out of Death Valley including a successful meeting with the legendary Death Valley Scotty. The (crumbling) newspaper itself is an historic gem laced with ads touting "Balloon Tires," the new Maxwell Coupe, the Rio Roadster, the Hudson super six–all iconic in U. S. car history. As well, splashed front page, are several pics of the famous air cooled Franklins in the valley and a photo of that career rascal himself–Scotty!

According to the writer (unnamed) there had been an attempt the previous summer to negotiate Franklin cars from Furnace Creek Ranch to Scotty's digs. But 126 temp and road (or no road) conditions turned them back for another try in January of 1925.
Good stuff here. They breakfast in Mojave, proceed to Randsberg, Leach Springs and Owl Springs. You can't do that today as Leach Springs is on sacred military ground. That trip assuredly went
over what still is the Steamwell road out of Johannesberg, through Granite Wells connecting with Owl Springs and on to the Harry Wade road. Then east on Bradburg Wash to Shoshone. Tough going today if
you could even find it.
These guys eventually got to Scotty but with an interesting little aside in Rhyolite. The mining camp had only been "partly disassembled." A moving picture company was filming something to be entitled "The Air Mail." (Film archives)??
Scotty, apparently a genial host, saw that the travelers were housed and fed. The writer goes on to inform that Scotty's house was furnished with elaborate stuff from China with maybe a $6,000 import fee plus other niceties that exceeded $150,000. The story implied that these were Scotty's digs done with Scotty's money There was mention by Scott of his 'partner.' Albert Johnson, who Scotty mentioned was going to build a million dollar house near his.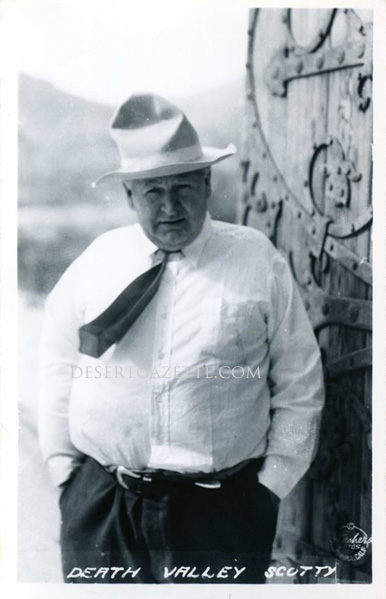 Apparently what the Santa Monica writer didn't know in 1925 was that Scotty was one of the magnificent cons of the early 20th century. He'd been exposed in 1906 and again in 1912 as a fraud and hoaxer. He relieved numerous gullible investors, including Johnson, of many thousands–invested in nonexistent gold mines. He even did some jail time in 1912. Despite this egregious behavior he remained in Johnson's affection until Johnson passed in 1948.
The Franklin car party's announced intention was to negotiate the length of the valley, in this instance from North to South. From Scotty's out of the south end. The article states "this had never been done before."
Well, uh, not exactly the case. This writer's father, Herbert S. Summers, made a journey in 1923 in a Model T Ford from south to north at least as far as Furnace Creek Ranch. His route was from Barstow north east past Bicycle Lake, Garlic Springs, Cave Springs and directly up the  valley to Furnace Creek Ranch.
Summers wrote a delightful little tale of their adventure describing the perils of mid-summer travel and took numerous photos–still in the family archives.
On exiting Scotty's, the Franklin party passed by something referred as the "lost wagon" and another site called "Surveyors Well," neither of which appear on today's maps. They evidently turned west to take the Wingate Wash (Pass) road paralleling the Epsom Salt Mono Rail and eventually found Mojave, unaware that it was possible to complete the North-South transit through Cave Springs and to Barstow. It in fact (in reverse) had been done.

Death Valley survived Scotty–and is a better place for it