After a down pouring rain water had collected in a small natural basin the sticks and stems and twigs and dried up flowers had fermented into an intoxicating brew that the local desert fauna seemed to enjoy drinking. There was what turned into a drunken festival in which the hare, sloppily and completely boozed up challenged a tee-totaling tortoise to a race. The tortoise, who was not too bright, accepted the contest mainly because the rabbit was staggering about insulting the clutch of eggs the sober tortoise hatched from and complaining that the whole tortoise famn-damily was slow and stupid.
Bobcats and rats and mice and snakes and lizards and coyotes put aside their differences to watch the tiny marathon and gathered together at the starting line. The judge, a badger, got a gun from somewhere and wildly fired it toward the sky and a batch of drunken Canada geese that happened to be flying by, winging one but not quite killing it, only making it wish it were dead from the pain. And that was the start of the race.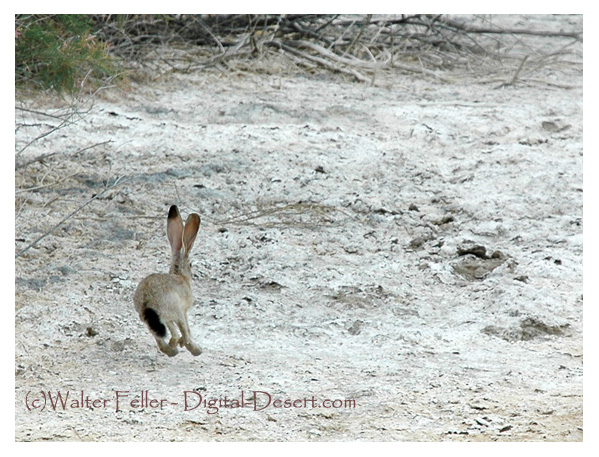 The hare bolted and leaped sideways rather uncontrollably as if one hind leg were much shorter than the other–he rocketed into a patch of California Buckwheat (eriogonum fasciculatum) and fell over. The tortoise, who calculated the rabbit was too stoned to follow the course, felt that if he were slow and steady and persistent, that he could beat the rabbit.
A bit later, the rabbit passed the tortoise faster than the tortoise had ever seen a rabbit move. However, the tortoise continued to believe that if he were slow and steady and persistent, that he could beat the rabbit and sure enough, the tortoise plugged along and quietly passed the rabbit taking a nap under a desert willow (chilopsis linearis). The tortoise smugly snickered as he passed the hungover hare.
The tortoise kept its pace and crossed the finish line proudly proclaiming that he had won the race. Judge Badger, with his gun in claw, fired it into the air hitting another flying goose then walked right up to the tortoise and said, "didn't you see the rabbit? He went back to tell you you lost." The embarrassed tortoise crawled back to his burrow, entered and slept the rest of the summer and everything else in the animal world went back to normal including the two coyotes that tracked the course back to the still passed out rabbit and ate him.
The end. There is no moral.