The tools of the desert dwellers varied with specific material available and with the individual Takic or Numic bands of Uto-Aztecan speaking Indians: Vanyume, Paiute, Chemehuevi or Kawiisu. Simple wood fire drills enabled Native Americans to make fire. By burning roots of a tree or bush, the Paiute preserved the fire. Use of rolled up juniper bark which when lit held fire for a long time.
They made stone mortars and metates (some portable) for grinding food and paint. A stick served as a stirrer; a tortoise shell, sheep horn or pottery as dippers; a rabbit scapula or carved wood as a spoon; a sheep's horn, coiled basketry or pottery became dishes. Tortoise carapace had been reported used as diggers, bowls, dishes to hold seeds. In Oro Grande specimens of tortoise shell rattles have been found. Waterproof baskets, animals' stomachs, and pottery "canteens" served as water carriers. Knives and drills were, of course, made from flaked stones and shaped bone. The yucca spine with fiber attached served as needle and thread. Sinew provided strong twine and backing for bows. Glue came from boiled sheep's horn. For tanning skins, aborigines used the brain of larger animals. Professional tanners contend that the brain size of each animal is large enough to tan that animal's skin. Paiute people utilized desert hardwood for their three to four feet long bows, sometimes
backed with sinew. Chemehuevi sinew-backed bows, often recurved, were powerful and accurate. Some Paiutes and Utes made bows from juniper trees by cutting through the bark. When that section died, they took it off the juniper tree and carved it into sturdy bows.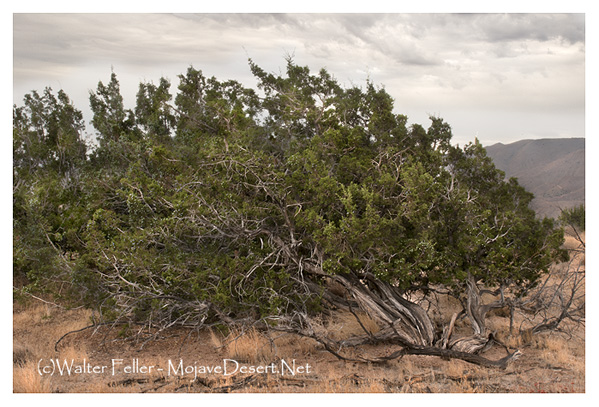 Arrows, made from reeds or arrow weed, were tipped with local quartz, chalcedony, jasper, or traded for obsidian obtained from the Paiute or Shoshone of Owens Valley. Netting and snares added to the survival tool kit.
Dozens of varieties of juncas, reeds and grasses made baskets for cooking, wearing (as hats) and storing. Some baskets with pitch added to them held water.
Their migratory yearly rounds made it necessary to store food to be retrieved during poor winters. They built water resistant caches with rocks, or into caves, or tree trunks. If grasses came late in January, runners went to their caches for food.
These tools allowed desert Indians to survive in a harsh environment for 5,000 years.
Courtesy Mojave River Valley Museum by Cliff Walker