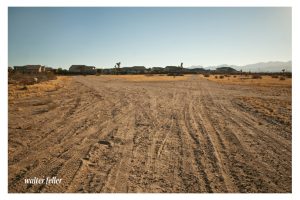 There is a book titled "Trails across the Mojave" that describes a fork in the Old Spanish Trail that splits off to John Brown's toll road on the left and the Mormon Hogback and Sanford's Pass to the southwest. Now the photo showing the fork located according to the directions provided most likely has no resemblance to what the original trail looked like if it were indeed at this particular point. I would say this fork is basically the same alignment in the same location as the trail was 150 years ago. The left goes to Cajon Summit while the right leads to Phelan to descend into the West Cajon Valley.
There is another important location to be remembered, it is the "Division of Trails"  that goes over Cajon Pass. The word "Cajon" is Spanish and means "box". The steep sides of the formidable mountain pass made the name appropriate.  The rigors of El Cajon must be faced to arrive in San Bernardino Valley. The high Sierra Mountains were the last barrier to the weary travelers.

Here the trails divided. The left fork was the way used by the pack-trains of the Spanish traders and was called the Old Spanish Road. The other road was chosen by the Mormons for they had wagons which could not be pulled up or down the narrow canyon which the Spanish had followed. So, the Mormons made a bend westward to the right to avoid the higher portion of the mountains.  This division of trails is today a a few hundred yards to the east of Highway 395 at the crossroad of Duncan Road.
The Spanish trail turned back to the left and slowly climbed the summit, entering the edge of Horse Thief Canyon. From there they traveled down grade about 6 miles until reaching Crowder Canyon (earlier called Coyote Canyon), then from Cajon junction the road went south which is located today on the present Highway 66. This section in the 1860s and 1870s was known as John Brown's toll road.
Trails across the Mojave – Grace Jackson, Lucille Matson – 1970